Chicago Med surprised fans when Dr. Hannah Asher returned in Season 7. Why did Jessy Schram leave the NBC show originally, and why is she back now?
You Are Reading :Why Jessy Schram Left Chicago Med and Why She Returned
The current season of NBC's Chicago Med has surprised fans by introducing new characters — and bringing one back that viewers probably didn't expect to see again. Dr. Hannah Asher, portrayed by Jessy Schram (Falling Skies), hasn't been part of the One Chicago universe since the beginning of Season 6 and her character was sent literally across the country. Viewers have been wondering why Hannah has popped up in the Windy City again.
Season 7, Episode 16, "May Your Choices Reflect Hope, Not Fear," ended with Sharon Goodwin (S. Epatha Merkerson) and Emergency Department chief Dr. Dean Archer (Steven Weber) going out to dinner to meet the person Goodwin wanted to hire for a new leadership role at the hospital. That person was revealed to be Hannah, who was given the job as Chicago Med's new Emergency OB/GYN chief with only a mild objection from Archer. But how did that come to pass?
Who Was Hannah Asher on Chicago Med?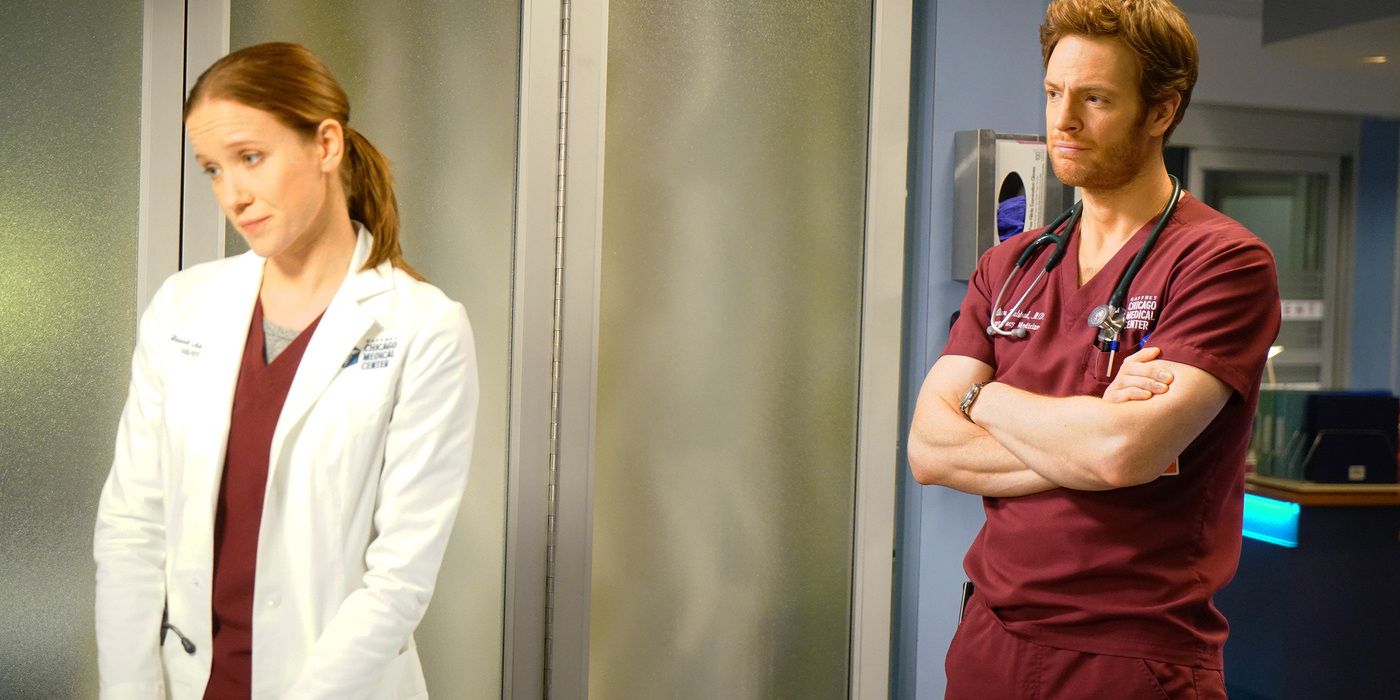 Dr. Hannah Asher was introduced during Chicago Med's critically average Season 5, but not in a conventional way. Fans didn't even know she was a doctor at first. Will had undertaken one of his many side projects outside of the hospital, working at a local safe injection site, and one of the heroin addicts he came into contact with was Hannah. He was stunned to find out later that she was also one of his co-workers, and initially Will was indignant about it, even trying to get her to resign or he'd report her to hospital administration. Of course, in true Chicago Med fashion, he didn't do that.
Instead, Will's frustration with Hannah turned into an ill-advised love affair (literally, Dr. Daniel Charles told him not to get involved with her romantically) that lasted through the Season 6 premiere. Fans saw Hannah go to rehab and Will take Hannah as his date to Ben and Maggie's wedding, and found out that Will and Hannah had moved in together. However, Season 6, Episode 1, "When Did We Begin to Change," revealed that Hannah had relapsed after an argument between the not-so-happy couple. After she recovered, Hannah told Will she was leaving Chicago for Los Angeles, leaving him heartbroken.
Why Jessy Schram Left Chicago Med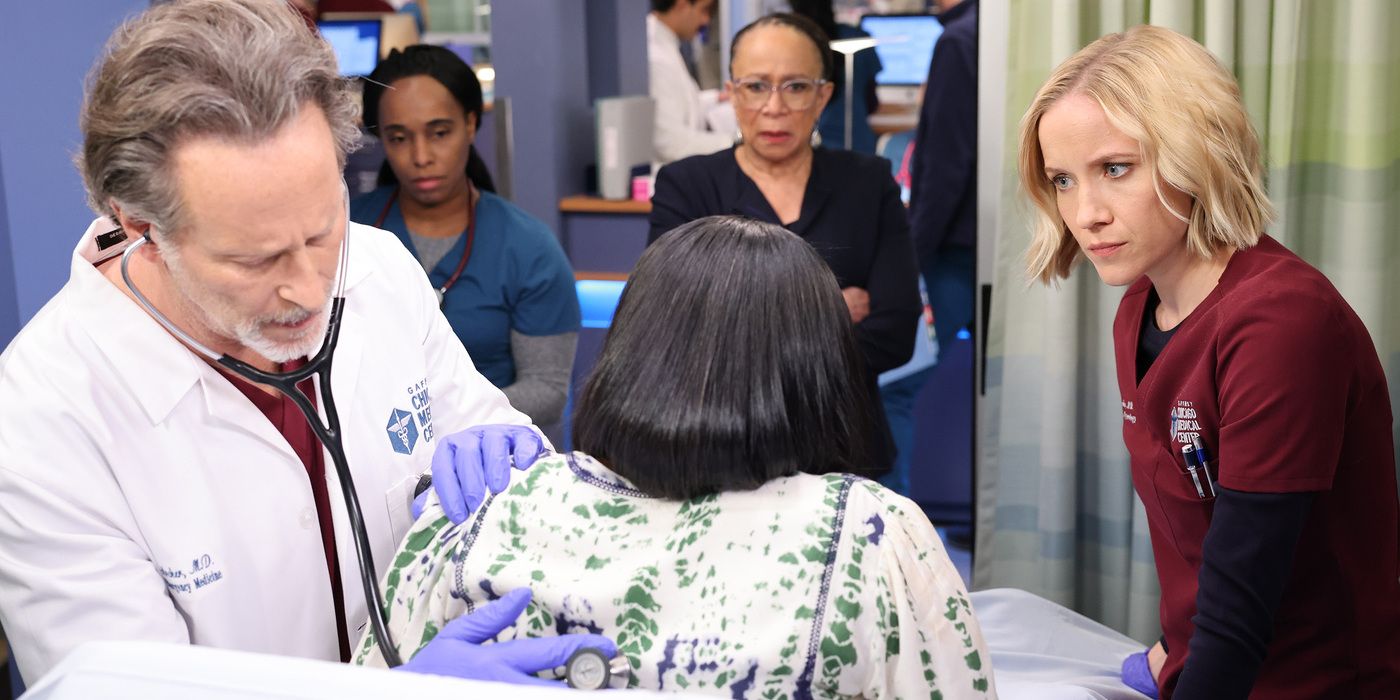 At the time Hannah's last episode aired, no explicit reason was given for Jessy Schram's departure. It was clear that Hannah's addiction and recovery storyline on Chicago Med had run its course, similar to how Dr. Robin Charles' mental health plot had come to a conclusion before Mekia Cox left the series. The series often sets up multi-episode stories with recurring characters and then transitions those characters out at the end of the story arc.
Hannah's absence also allowed the series to give Will a new love interest in the form of Dr. Sabeena Virani (recurring guest star Tehmina Sunny), the doctor he was working with on Kender Pharma's clinical trial in the rest of Season 6. But that relationship also was wrapped up as the trial storyline concluded. Virani dumped Will unceremoniously when he admitted he knew that his former fiancee Dr. Natalie Manning had stolen medication from the trial, which paved the way for Torrey DeVitto's departure from the show.
Why Did Jessy Schram Return to Chicago Med?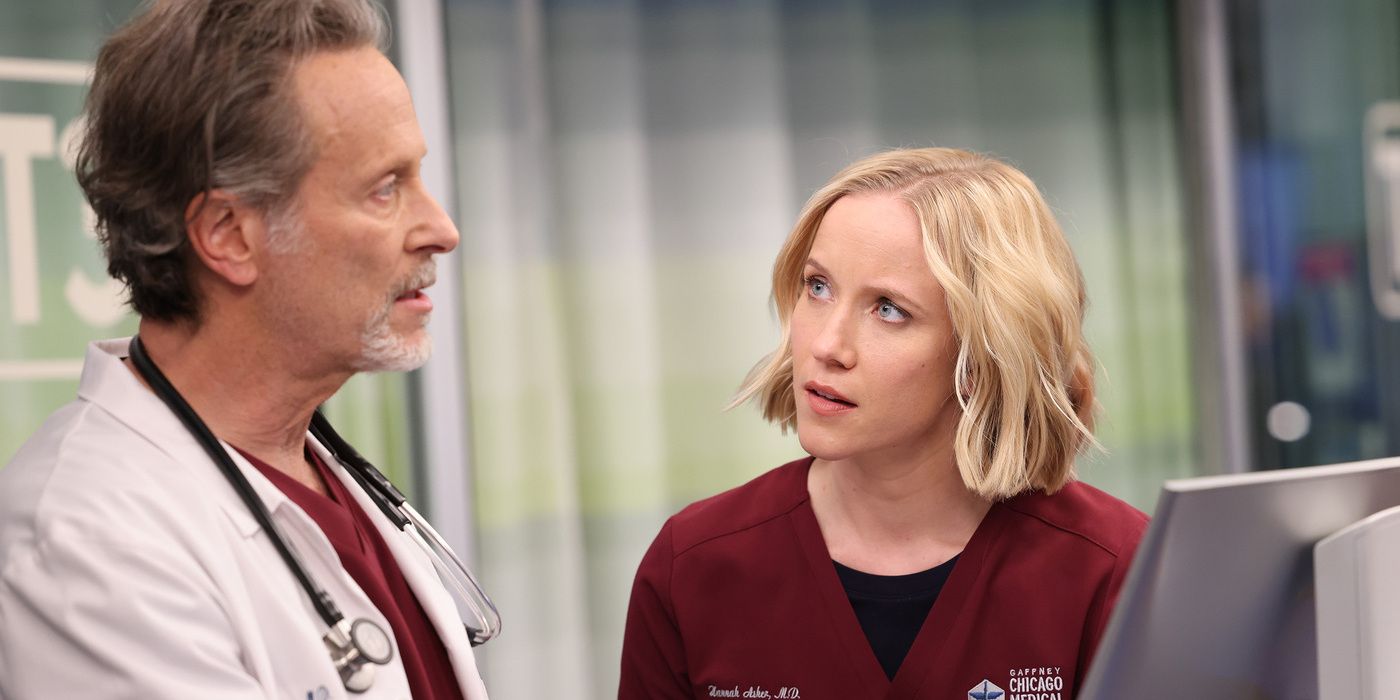 When news of Jessy Schram's return was broken by Deadline, the report didn't come with any quotes from Chicago Med's producers about why the actress was coming back after a season-plus away. But in a recent TVLine interview, executive producer Diane Frolov explained that "We wanted to start something that we, as writers, can continue on to the next season. So [bringing Hannah back] did both those two things: introducing a person that the audience knew but was excited about seeing, and giving us the possibility of an ongoing story for next season." (The series has already been renewed for Season 8.)
After Chicago Med narrowed its focus down to the Emergency Department for a few seasons, Season 7 has started to incorporate other parts of the hospital again. Another recurring plotline has been the transplant team, headed by Dr. Pamela Blake (Sarah Rafferty). Hannah gives the series the ability to explore stories with her new OB/GYN unit. She also allows the series to revisit the romance between herself and Will, who never seems to stay single for very long. While there's no official word about her future storylines, she brings new plots to the table at the same time that the character turns over a new leaf, so there's a lot Jessy Schram can do in her return to Chicago Med.
Link Source : https://www.cbr.com/chicago-med-why-jessy-schram-left-return/