Max Verstappen finds the choice of words that his father-in-law Nelson Piquet recently used towards Lewis Hamilton "incorrect", but at the same time he stands up for the three-time world champion from Brazil.
Piquet called Hamilton a "neguinho" in an earlier podcast. Later, the former driver stated that this word can be interpreted in several ways, and that it was not intended to be racist. But as for Verstappen, his girlfriend Kelly's father had avoided the word anyway.
"That word is not correct, even if it comes from a different culture. You can take it in two ways, but it's just better not to use it," Verstappen said at Silverstone on Thursday. "Let it be a lesson not to do that anymore, because it is very insulting. Especially today, something like this gets a lot of attention quickly. And everyone is against racism, I think that is clear."
"But I spent a lot of time with Nelson, more than the average person here," said the reigning world champion. "He is certainly not a racist, but a very nice and relaxed guy."
"People are now labeling him as a racist, but I think it's being blown up a bit. At the same time, I totally agree that you shouldn't use those kinds of words."
Max Verstappen has his picture taken with a fan at the Silverstone circuit.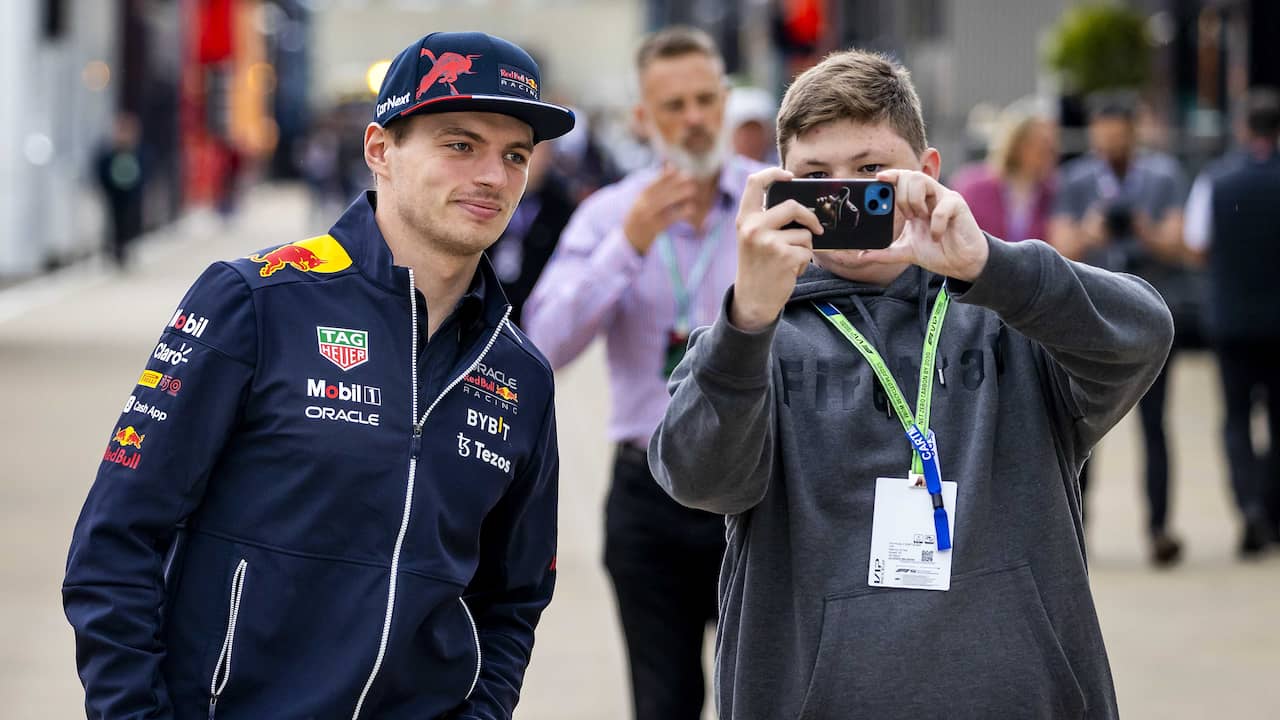 Verstappen supports initiatives taken by Hamilton
Verstappen is not only concerned with the word Piquet used, but also with insulting language by anyone, against anyone, of whatever color. "We need to work on that in general, I'm not just talking about Formula 1 and what is being said to Lewis, but everyone in the world."
Verstappen has not yet spoken to Hamilton about the situation, and according to the Red Bull driver, that is not necessary. "I respect him as much as all the other drivers and he knows how I feel about this situation. That is no different from the other drivers. Together with all the drivers and with Lewis, we support initiatives that have already been taken. In that he has my full support."
'He knows he was wrong'
The World Cup leader is also not going to risk a call to Piquet himself. "I don't have to talk to my father-in-law, that's not up to me. I'm not going to call him to say he was wrong, he knows that himself. He has already said in his statement that he realizes that he used wrong words."
Although it has not yet been officially reported by Formula 1, various media have talked about a life ban for Piquet from the sport, who would no longer be welcome in the premier class paddock. Verstappen thinks that's a bad idea.
"I think it's better to keep talking to people instead of banishing them. If you send them away, you won't help the situation either. You have to keep talking. These kinds of things can be solved. As long as there is learning of mistakes that have been made."
According to Verstappen, VIPs deserve a second chance
In the week in which Piquet's statements surfaced, it was also announced that Formula 2 talent Jüri Vips had been expelled from the Red Bull junior program. The driver from Estonia said the word nigger in an online game that everyone could follow. His team HitechGP will continue with Vips, to the dissatisfaction of Formula 2. But according to Verstappen, the 21-year-old driver deserves a second chance.
"Not a third, I think," emphasized Verstappen. "But people sometimes say things too easily, without really thinking about it. And that can hurt others."
"I also know Juri personally. He is a very nice guy, and he understands what he did wrong. He is now in a difficult package of course, and everyone has an opinion about him."
"What he said was of course not good, but I do think he deserves a second chance. Formula 2 now says that they would rather not have let him drive on, but people must be able to demonstrate that they see that they have done something wrong. "