Sport Brief: Brazilian club captures refugee footballer from Ukraine | Sport
Keep up to date with all the sports news. We have set up special pages on our website for football, tennis, skating, motorsport, cycling and darts news, on which the most important matters in these sports are highlighted. In this section Sport Kort mainly the other messages are discussed.
Brazilian club captures refugee footballer from Ukraine
6.42 pm: Brazilian club Corinthians from São Paulo has signed Ukrainian footballer Junior Moraes. Moraes is one of the players who has left the club Shakhtar Donetsk after the Russian invasion of Ukraine. The 34-year-old attacker has now signed a contract in Brazil until the end of 2023.
Moraes, a Brazilian born in Santos, was naturalized as a Ukrainian in 2019, after playing several seasons in Ukraine with Dinamo Kiev and Shakhtar, among others. He received his youth training at Santos, but spent most of his professional career in Eastern Europe.
Moraes also played for the Ukraine national team.
Grand slams use the same rules for deciding set
3:27 p.m.: All four Grand Slam tournaments will immediately adopt the same rules for the tiebreak in the deciding set. The Australian Open, Roland Garros, Wimbledon and the US Open had different regulations, which led to confusion.
All grand slams are now completed in the deciding set with a tiebreak to ten points, with a two point difference in the deciding set.
The Australian Open, the grand slam tournament that has already been played this year, already applied that rule. At Roland Garros, play continued until a tennis player had two games more. Wimbledon quite recently decided to introduce the tiebreak at 12-12 in the last set and the US Open used a regular tiebreak at 6-6, until the seven points.
According to the grand slams, it is a test. "The decision is based on a desire to bring more consistency to the rules," the Grand Slam Board said.
"It will disappoint the purist, but we are proud that we are all going to play a super tiebreak at 6-6 in the fifth set," said Amélie Mauresmo, Roland Garros' new tournament director. That tournament starts on Sunday, May 22.
Marathon matches like in 2010 at Wimbledon have been impossible for some time now. Almost twelve years ago, American John Isner and Nicolas Mahut from France played a match that was decided 70-68 in the fifth set. The legendary duel lasted more than 11 hours and was played over three days.
Snowboard star Dekker third in parallel giant slalom
3:03 PM: Snowboard star Michelle Dekker finished third in the giant slalom at the World Cup in Rogla, Slovenia. Dekker won the bronze medal against the German Carolin Langenhorst. The gold went to the German Ramona Hofmeister, who defeated the Japanese Miki Tsubaki.
It is the third time for Dekker that she has achieved a podium place in the World Cup. At the Olympic Games in China, Dekker just missed third place. The 25-year-old snowboarder then surprisingly made it to the semifinals, which she lost to later winner Ester Ledecka. In the battle for the bronze she had to bow to Slovenian Gloria Kotnik.
Keetels ends after the World Cup hockey career
3:02 p.m.: Marloes Keetels will end her hockey career in the summer after the World Cup. The 28-year-old Ketels already played 169 international matches for the Orange and won a gold medal with the Dutch team at the Olympic Games in Tokyo last summer.
"I want to make sure that I no longer enjoy being on the field at all. I'm dreading committing to top hockey for another two years. I'm starting to resist giving everything," Keetels said on the hockey.nl website.
"You notice that in small things. I long to join a family lunch once, to go on holiday without running schedules and strength training. The game is and remains great, but leave everything for another two years? That thought started to wrestle more and more."
Keetels plays for Den Bosch, which will say goodbye to Lidewij Welten after this season. She continues her career at Kampong.
The Hockey World Cup is in July and will be played in Spain and Amstelveen.
Karlsson in Sweden's final selection for World Cup qualifiers
2:33 pm: AZ striker Jesper Karlsson is part of Sweden's final squad for the World Cup qualifier against the Czech Republic. The game will be played in Solna on Thursday 24 March.
The winner of the game between Sweden and the Czech Republic will play against Poland five days later for a place at the World Cup, at the end of this year in Qatar.
Zlatan Ibrahimovic will also be there at the end of March on behalf of Sweden.
The 23-year-old Karlsson is in his second season in Alkmaar. He has scored 13 goals in 26 Eredivisie games this season. AZ is fourth.
Feyenoord and RKC play practice match for Ukraine
11.19 am: Feyenoord and RKC will play a practice match next week to raise money for Ukrainian refugees. The game is scheduled for Wednesday, March 23. All proceeds go to projects for the benefit of the refugees.
Feyenoord works together with main sponsor EuroParcs, the holiday parks where groups of refugees from Ukraine are accommodated at the request of the Dutch government.
"With the money that comes in, additional facilities will be created for the Ukrainian refugees, in order to provide children in particular with a fun and useful daytime activity. Transport, clothing, food and drinks, sports and teaching materials, and the deployment of coaches, teachers and other guidance will be provided. The intention is that as many children as possible participate in the programs on a structural basis", according to EuroParcs.
Before the game, the football players of Feyenoord also take action against Seastum. They will then play in De Kuip for the first time.
Heracles Almelo a few weeks without keeper Blaswich
10.38 am: Heracles Almelo has to do without keeper Janis Blaswich for a few weeks. The 30-year-old German suffered a muscle injury last weekend in the warm-up prior to the home game against Vitesse.
"Unfortunately, I will not be able to play for the next few weeks. We can't say exactly how long it will take at the moment, but I hope to be of value to the team again as soon as possible," said Blaswich.
The 18-year-old Timo Jansink is included in the selection from the youth academy. On Sunday against Vitesse (0-0), Blaswich, who moved to RB Leipzig at the end of the season, was replaced by Koen Bucker.
Heracles is the number 11 in the Eredivisie. On Friday, the club awaits the away game against sc Heerenveen.
Title holder Badosa to last eight at Indian Wells
08.10 am: Spanish tennis star Paula Badosa has secured a place in the quarterfinals at Indian Wells. The title holder was 6-4 6-4 too strong for Canadian Leylah Fernandez, the number 21 in the world, and has now been unbeaten in California for nine games in a row.
The 24-year-old Badosa can become the first player since 1991 to win the title at Indian Wells in two consecutive editions. 31 years ago, legend Martina Navratilova was the last to succeed.
Last year, Indian Wells was not played until October due to the corona virus. Badosa was then too strong for Victoria Azarenka from Belarus in a nerve-wracking final.
If Badosa, now the global number 7, takes the title again at 'the fifth grand slam tournament', she will be the number 2 in the world on Monday. Greece's Maria Sakkari and Iga Swiatek from Poland, who both also made it to the last eight, can also take over the number 2 position from Czech Barbora Krejcikova this week. List leader Ashleigh Barty is not among them at Indian Wells.
Basketball player Irving has the best night out in his career
7:37 am: Kyrie Irving has led the Brooklyn Nets basketball players in the NBA with big marks past Orlando Magic. Irving (29) scored no less than 60 points, the highest number in his career. It was 150-108 in Orlando.
Halfway through, the score was already 86-56 and after the first two quarters, Irving already had 41 points to his name. Nearly two decades ago, a player was last so accurate in the first half of a game in the NBA. On March 28, 2003, Kobe Bryant reached 42 points in quarters 1 and 2.
"To have Kyrie do this on the night after Karl Towns put in an incredible performance is great for the competition," said team-mate Kevin Durant. "We see a lot of talent every night and this was one of the elite."
It was Brooklyn Nets' fourth straight win. The Nets are eighth in the Eastern Conference with a win rate of 52.2 percent. Orlando Magic is last.
Makkelie: 'Important that football players appreciate my way of whistling'

Makkelie: 'Important that football players appreciate my way of whistling'
Blackpool striker Daniels comes out as first British professional player in 32 years | NOW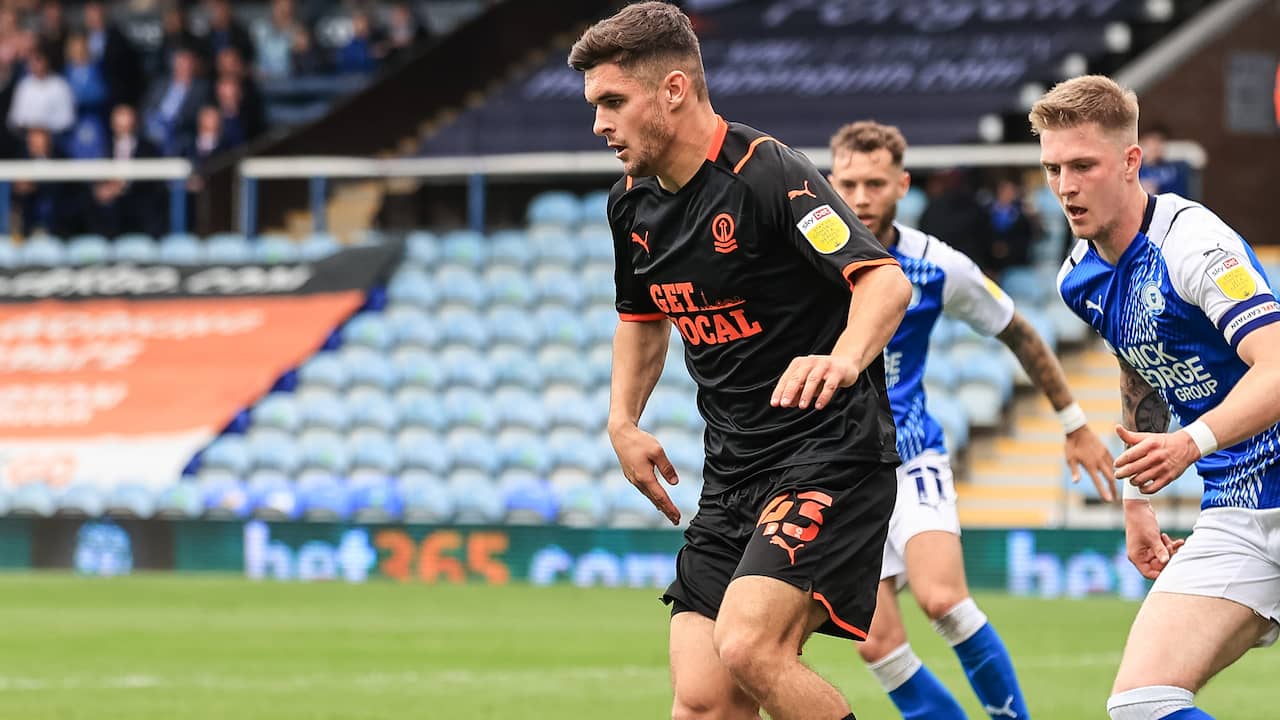 Blackpool's Jake Daniels revealed on Monday that he is gay. The 17-year-old attacker is only the first British professional footballer since Justin Fashanu in 1990 to openly admit his homosexuality.
"This season has been fantastic for me," Daniels begins his story on the site from his club. "I made my debut in the first team, scored thirty goals for the youth team and signed my first professional contract."
"But off the pitch, I've been hiding who I really am. All my life I've known I'm gay. I think it's time to come out publicly."
There is still a taboo against homosexuality in professional football, as a result of which hardly any footballers at the highest or second highest level are openly gay. In October last year, Australian professional football player Joshua Cavallo came out and in the MLS, the highest level in the United States, Minnesota United player Collin Martin announced a few years ago that he was gay. Robbie Rogers announced that he was into men in 2013 and played for LA Galaxy for years later.
In the summer of last year, an anonymous Eredivisie player told in a podcast of the NOs not wanting to come out because he's afraid it could hurt his career. John de Bever, now mainly known as a singer, made it known during his professional (indoor) football career that he was gay.
Fashanu became the first British professional footballer to come out in 1990. He took his own life in 1998.
'Everyone reacted positively'
Daniels emphasizes that he has a lot of support from people within the club, family and friends. "And I have already told the news to my teammates. Everyone reacted positively."
"I'm tired of lying all my life and always doing my best to fit into the familiar picture. Hopefully I can be a role model in this way too."
Blackpool said in a statement that it was "incredibly proud" of Daniels. "It is vital for us as a club that we create an environment in which everyone can be themselves. Let football take the lead to combat discrimination and other prejudices in this area."
Jake Daniels (right) is only the second British professional footballer to confess that he is gay.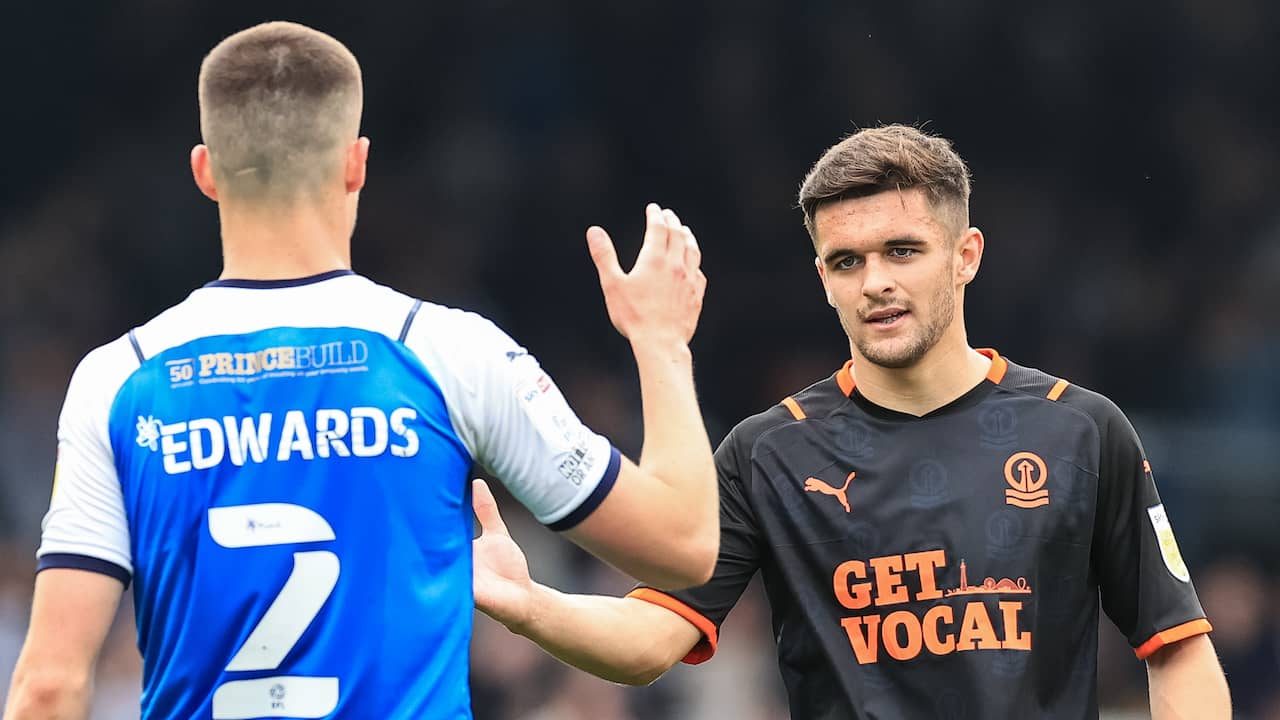 Smiling Alfred Schreuder to Ajax without fear: 'Win the Champions League? That's what we're going for, yes'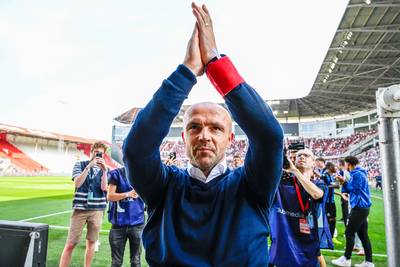 Alfred Schreuder does not think he will change much at Ajax. That said the successor of the coach Erik ten Hag, who is departing for Manchester United, on Monday in the Belgian sports program Extra Time on Canvas.