If Rafael Nadal could choose between another win at Roland Garros or a new foot, he would undoubtedly prefer the latter. The Spaniard said this after he reached the final in Paris for the fourteenth time in his career due to a withdrawal from Alexander Zverev.
"I would prefer to lose the final on Sunday and get a new foot", 36-year-old Nadal was convinced on Friday. "I would be very happy with my life with a new foot. Winning is nice, but life is more important than any title. Especially after the career I've had."
Nadal will be in the final at the clay tournament in Paris for the fourteenth time in his career on Sunday. However, the preparation of the 21-time Grand Slam winner did not go as desired. He had a lingering foot injury, which kept him sidelined for a long time last year.
According to the Spanish medium MARCA In view of that injury, Nadal would take a longer break after Roland Garros to recover, but according to Nadal's agent, that decision has not yet been made. In the event of a break, he would, among other things, skip Wimbledon.
Rafael Nadal hugs Alexander Zverev.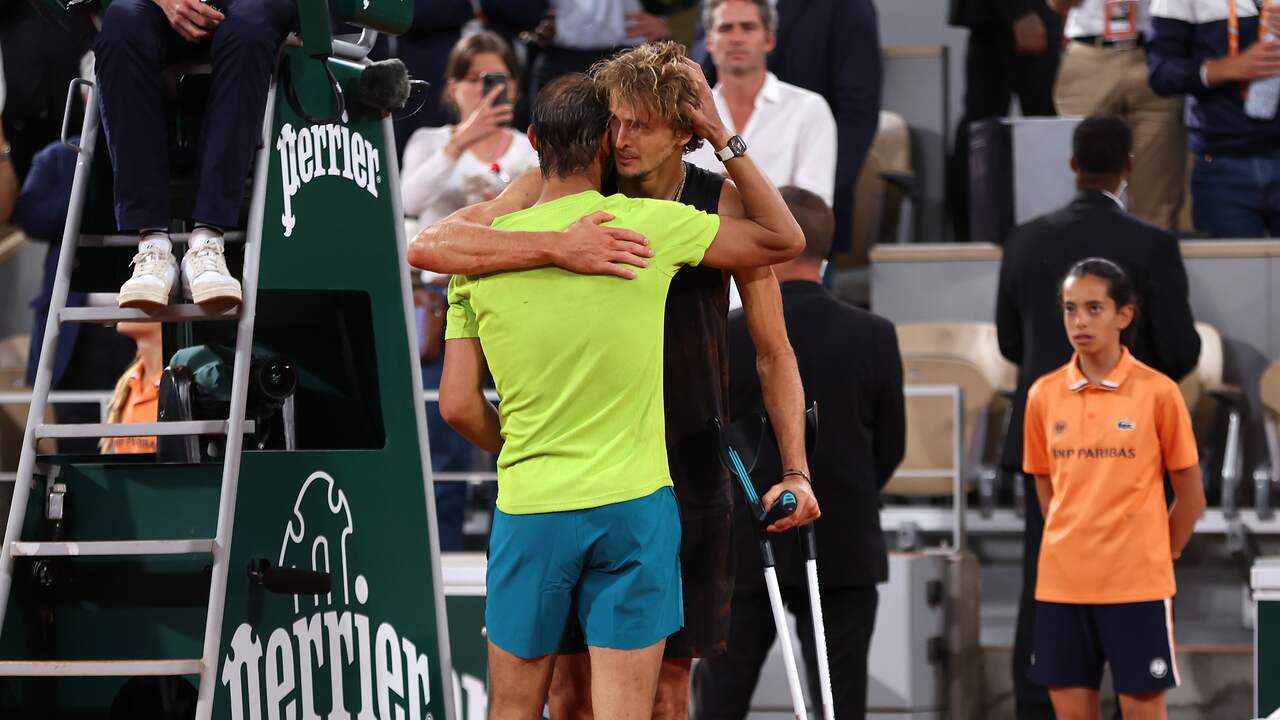 Nadal sympathizes with Zverev
The way Nadal reached the final was not as hoped. At the end of the second spectacular set, Zverev broke his ankle. The German screamed in pain, was driven off the track in a wheelchair and gave up moments later.
"It's very tough and I feel bad for him," Nadal said. "He played an incredible tournament. I know how much he fights for a Grand Slam and I am convinced that he will win more than one. I wish him all the best."
"It is difficult to say many things in this situation. For me it is a dream to be in the final of Roland Garros, but at the same time it is not nice to finish that way."
Nadal will face Casper Ruud in his fourteenth Roland Garros final on Sunday. The Norwegian settled in four sets with Marin Cilic (3-6, 6-4, 6-2 and 6-2). The party was briefly interrupted because of a climate activist who chained himself to the net.
Ruud is the first Norwegian male player ever to reach a Grand Slam final. A very difficult task now awaits him; Nadal won his previous thirteen (!) final at Roland Garros.