England averted their second consecutive defeat in the Nations League in the final phase against Germany on Tuesday. Thanks to Harry Kane's fiftieth international goal, it was 1-1 in Munich. Italy finally won again.
Germany seemed to score twice in the first half. After seventeen minutes of play, Thomas Müller knocked the ball over the English goalkeeper Jordan Pickford, but the Spanish referee Carlos del Cerro Grande appeared to have already whistled for a foul. A goal by Jonas Hofmann was disallowed for offside.
After the break it was still hit for Germany and Hofmann. The midfielder of Borussia Mönchengladbach was cleverly released in the fiftieth minute by playmaker Joshua Kimmich and then completed it expertly.
England was already close to the equalizer fifteen minutes before the end via Kane, but then the German goalkeeper Manuel Neuer still stood in the way of the 1-1. Two minutes before the end, the Bayern Munich goalkeeper still had to capitulate with a penalty from Kane, who made his fiftieth international goal from 11 meters. He is three goals away from all-time leading scorer Wayne Rooney.
With the draw in Germany, England takes its first point in the Nations League. The team of national coach Gareth Southgate surprisingly lost 1-0 against Hungary in the opening game last Saturday.
Standings in Division A group 3 in Nations League
1. Italy 2-4 (+1)

2. Hungary 2-3 (0)

3. Germany 2-2 (0)

4. England 2-1 (-1)
Italy finally had another victory to celebrate.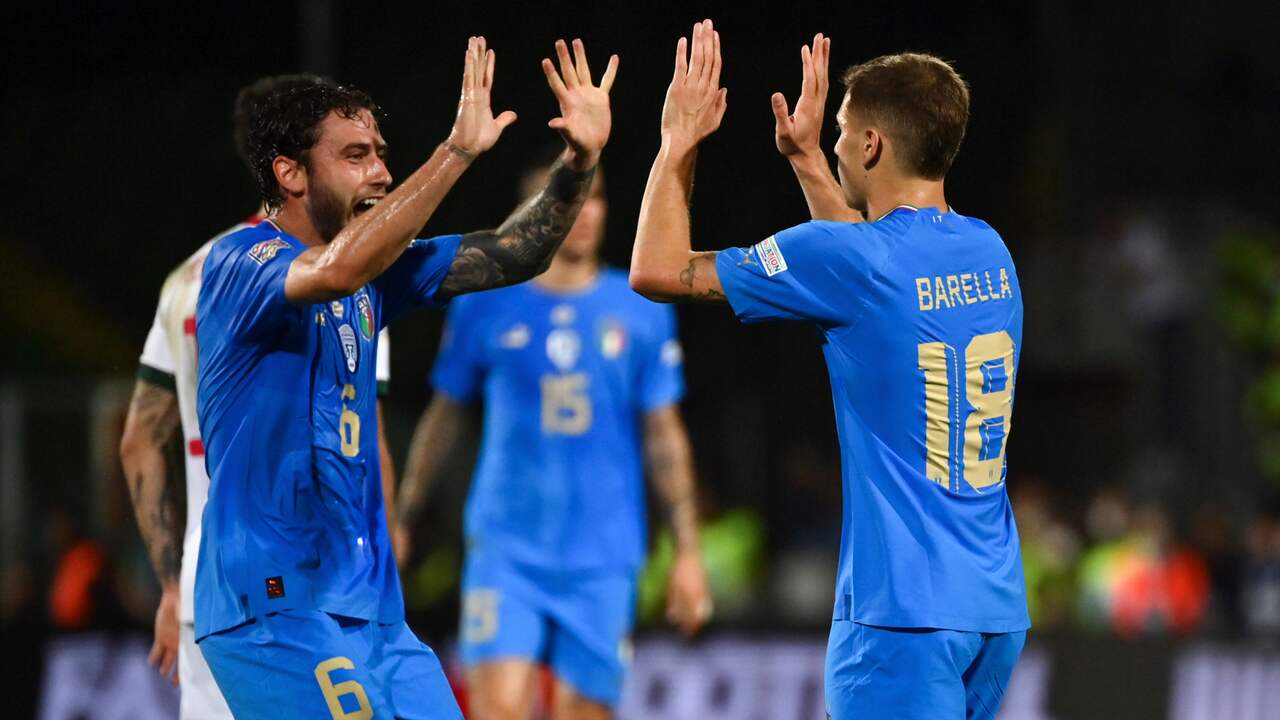 Italy wins despite clumsy own goal
Italy leads the group by beating Hungary 2-1 in Cesena. For the team of national coach Roberto Mancini, the three-pointer was welcome after the draw against Germany and the painful 3-0 defeat against Argentina.
Nicolò Barella gave Italy the lead after half an hour with a beautiful long shot, after which Lorenzo Pellegrini doubled the lead just before half-time. The AS Roma midfielder scored from close range after beautiful preparatory work by Matteo Politano.
After the break it was still tense when Hungary came 2-1 with the help of Italy. Gianluca Mancini slipped a cross from the right behind his own goalkeeper Gianluigi Donnarumma, but victory was never in danger for the reigning European champions.
At Lithuania-Turkey (0-6) in Division C, Orkün Kökçü and Halil Dervisoglu played leading roles. The Feyenoord midfielder gave the assist at the 0-6 of former Sparta player Dervisoglu.
For the app users, tap the tweet to see the footage of Gianluca Mancini's own goal.