Manager Josep Guardiola has urged Manchester City fans to behave well if the club are champions on Sunday. Colleague Jürgen Klopp of competitor Liverpool hopes that Aston Villa manager Steven Gerrard can help his former club in the exciting title battle in the Premier League.
Manchester City and Liverpool will decide who will be champions during the last round on Sunday. League-leader City, which is up against Aston Villa, has a one point lead over number two Liverpool. 'The Reds' play against Wolverhampton Wanderers.
Both title candidates play a home game, which will create a big party in one stadium. In recent days, Everton, Nottingham Forest and Port Vale have gone wild with overjoyed supporters storming onto the pitch. In Nottingham, Sheffield United captain Billy Sharp was headbutted by a fan, while Crystal Palace manager Patrick Vieira kicked an Everton supporter who was harassing him.
"We have to be very careful, the images of those games were not good," Guardiola said at his press conference on Friday. "The combination of a lot of emotions, happiness and sometimes alcohol can be very dangerous. We have to behave as best as possible at City on Sunday and celebrate the possible title in the right way."
The 51-year-old Spaniard can become champion for the tenth time in his coaching career and for the fourth time with City. This was previously possible in 2018, 2019 and 2021. "The title is the most difficult prize to win," said Guardiola. "The season is so long, you have to deal with injuries and with good and bad moments. You notice that the atmosphere in the dressing room is better when you do well in the Premier League."
Guardiola, who again has defenders Kyle Walker and John Stones, has urged his players to enjoy Sunday. "Of course the players feel that it is a very important game, but it is just a football game. We have to do what we have done in recent months."
Standings in Premier League title fight
1. Manchester City: 37-90 (+72)

2. Liverpool: 37-89 (+66)
Klopp: 'I'm sure Gerrard takes it very seriously'
Liverpool coach Klopp knows that his team is dependent on Aston Villa in the title fight on Sunday. A striking detail is that the club from Birmingham is trained by Gerrard. Klopp expects the Liverpool icon to be very eager to help his former club by achieving a good result against City.
"If I could help Dortmund or Mainz by winning a game, it would give me extra motivation," Klopp said at his press conference on Friday about the two previous clubs he coached. "I'm sure Gerrard will take Sunday's game 100 percent seriously, without me having to call him about it."
The German trainer does not yet know whether he can have Virgil van Dijk, Mohamed Salah and Fabinho, who are struggling with a minor injury, in the home game against Wolverhampton Wanderers. Liverpool are also looking closely at next Saturday's Champions League final against Real Madrid.
"It all looks good, the boys are making strides," Klopp said of Van Dijk, Salah and Fabinho's recovery. "But I have no idea what we will do with them next weekend. I prefer that they all play on Sunday to get some rhythm or at least sit on the bench, but I don't know if that is possible."
All Premier League matches start on Sunday at 5 p.m. Dutch time.
Jürgen Klopp (left) hopes for help from Steven Gerrard (right) on Sunday.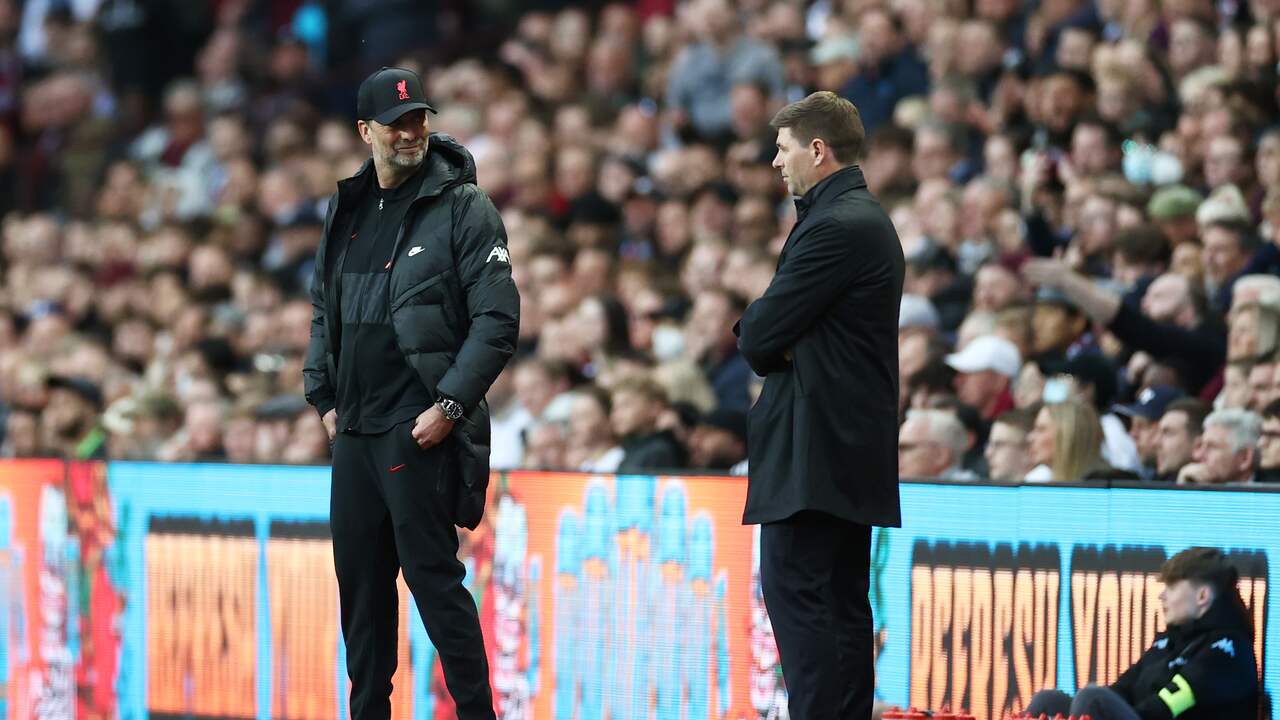 View the program, results and standings of the Premier League