Mamoru Hosoda's Belle offers a uniquely digitized spin on Beauty and the Beast, with plenty of knowing homages to the Disney version.
You Are Reading :Belle Mamoru Hosoda Retells Beauty & the Beast for the Internet Age
Beauty and the Beast, though a timeless fairy tale, has been synonymous with one studio for the past 30 years — Disney. How do creators hoping to put their own spin on it stop audiences from thinking back to that iconic, yellow ballgown and Gaston tunefully guzzling eggs, then? Mamoru Hosoda's take on the story, Belle, is well aware of this. His solution? Don't avoid it, lean into it: more than one scene in Hosoda's stunningly realized anime is a shot-for-shot homage to the 1991 Disney version. If that weren't enough, Hosoda also enlisted help from the source — Jin Kim, a veteran animator/character designer from Disney Studios.
A few visual cues are where the similarities end, though. Belle is a distinctly unique take on the French fairy tale, perhaps even more inventive than Disney's, and equally as enchanting.
The titular "Belle" is a girl living a double life: in reality, she's 17-year-old Suzu Naito, a meek and troubled Japanese high schooler who lost her childhood passion for music following a traumatic event. On the Internet, however, Suzu's singing voice returns, making her an overnight, online sensation in the virtual world of "U." As this premise suggests, Belle is also a musical, and while the soundtrack may not be destined for Broadway, the score — and Belle's otherworldly vocalist — is still one you'll want to revisit. For a story selling you on the idea of a singing viral sensation, the music being believably good is key.
Belle is not the only Internet celebrity on the block, though. A scrappy, monster of an avatar known as "The Dragon" has been causing chaos among the U community for months. But when he and Belle cross paths, she finds herself oddly drawn to him. Thus, Beauty meets her Beast with a 21st-century cyber twist.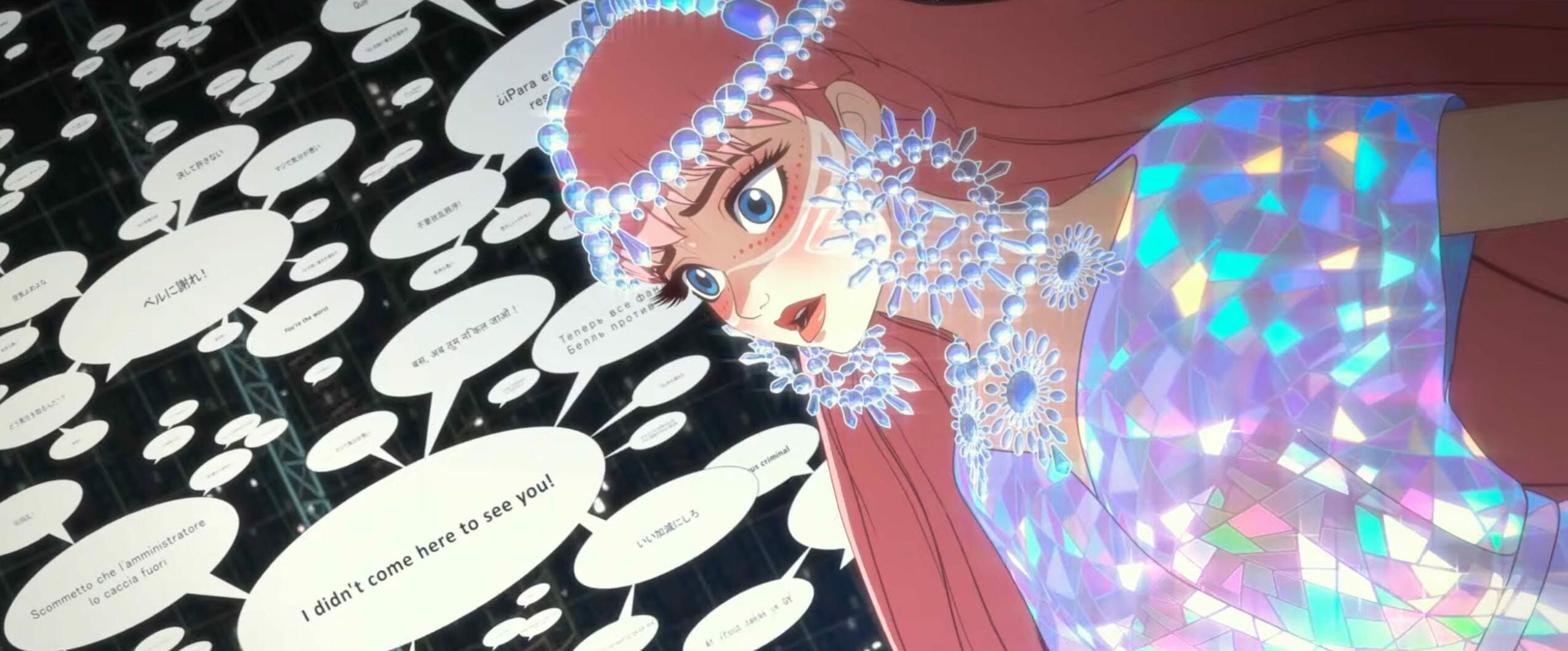 This isn't even the first time that Hosoda — known for Digimon: The Movie, The Girl Who Leapt Through Time, Summer Wars and Mirai — has referenced Beauty and the Beast in his work. Its influence is also clear in 2015's The Boy and the Beast, to name just one. Belle is perhaps the most overt adaptation, but even with both the original tale and Disney being clear blueprints, the film still manages to go in unexpected directions.
That isn't to say Hosoda fans will be all that surprised by the structure and themes of Belle: all the usual Hosoda-isms are there, right down to a group of people being brought around a computer for the big finish. Clearest of all is the director's continuing belief in technology, and the Internet specifically, as a force for social good. Though there are some passing comments made on the negative impact being a digital native can have on young girls, like his past work, Hosoda's aspirational view of the Internet hasn't changed since he used the power of email to stop the Big Bad in the first Digimon movie 20 years ago.
As nice as this is, it's arguable that there's a missed opportunity here. Hosoda uses the splintering effect (the phenomenon of 'catfishing') that happens between our real and online personas to interesting — and sometimes comedic — effect, but those aforementioned passing comments could plumb a little deeper.
In a more cynical film, the psychology of the Suzu/Belle divide could have been better used to explore the harm that social media and digital augmentation has on body image, beauty standards and the cruel flipside of celebrity statuses for women. Instead, the world of U is mostly a harmonious realm of playful escapism, minus a few bad apples.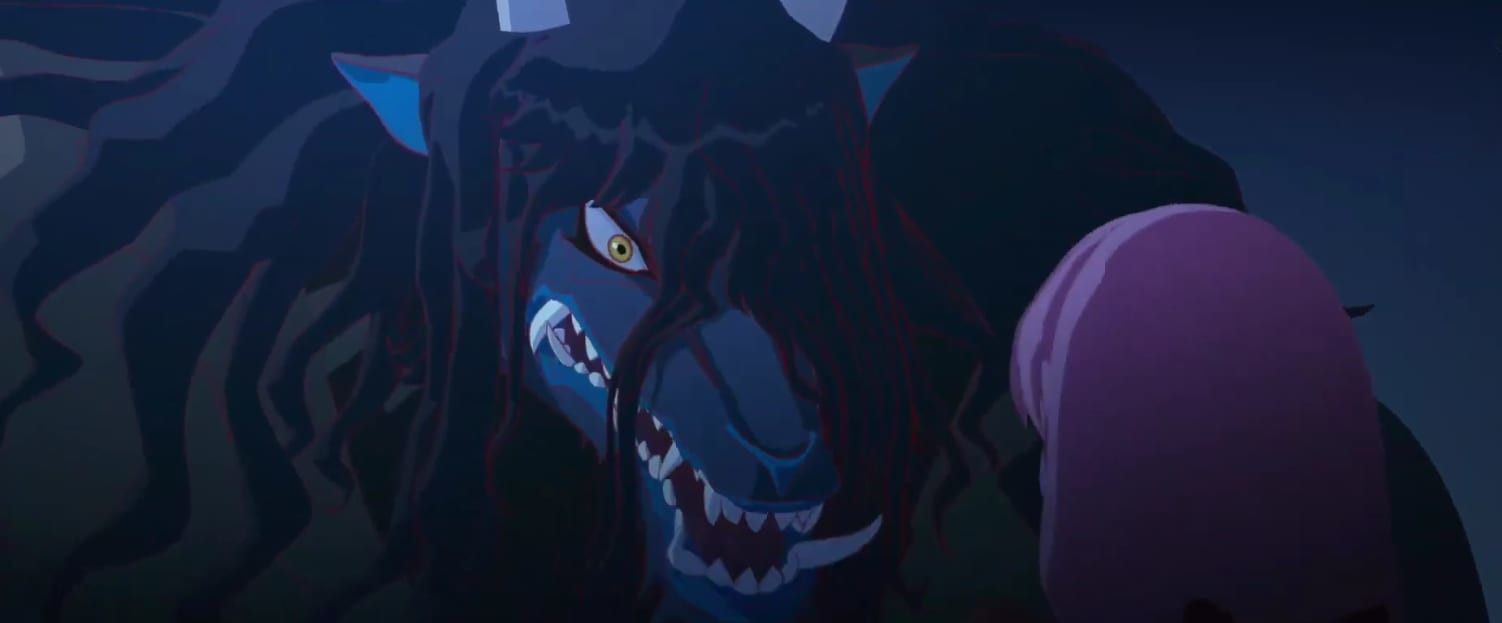 Suzu is still a far more fleshed out character than most Belles: painfully insecure and lonesome but desperate for expressivity and purpose, which is what compels her to unravel the mystery of The Dragon's origin. Though it deals with some very dark subject matter, especially for younger audiences, Belle is also as tonally well-balanced as any great Disney film. One scene in which two of Suzu's classmates awkwardly attempt to confess their mutual feelings has some wonderfully animated physical comedy, mostly done through body language alone.
Hosoda has rarely made any missteps during his career and Belle is one of his most triumphant dances yet. After drumming up a lot of critical acclaim on the festival circuit (including a 14-minute standing ovation at Cannes), the film may well repeat some of the Beauty and the Beast's success at the next Academy Awards. Maybe there's a good reason directors like Hosoda keep coming back to Belle and the Beast.
First released in Japanese cinemas on July 16 as Ryu to Sobakasu no Hime (literally translated "The Dragon and the Princess of Freckles,") Mamoru Hosoda's Belle will begin its theatrical run in US cinemas Jan. 14, 2022.
Link Source : https://www.cbr.com/belle-film-review/